Paragliding equiptment.
1. RESERVE Diamond Cross ST
2. COMPRESSION PACK BAG
3. SPECIALS Stocked Demo / Used.
All prices are shown in Australian dollars. With varying delivery times. Prices are subject to actual exchange rate. 
All inquiries please contact us Via E-mail here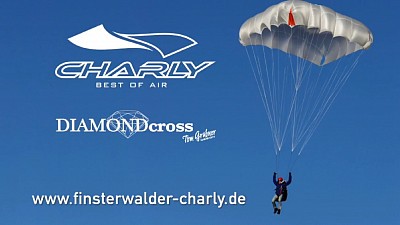 Steerable square reserve "DiamondCrossST" From $1298.00 Sizes available 100 to 220kg $2082.00 IN STOCK DEMO NEVER DEPLOYED size 100 for sale.
DIAMOND CROSS steerable SQUARE RESERVE
2021 Update the steerable for Tandems!  2.25kg upto 220kg safer steerable landings.
New tests performed for opening safety of the DIAMONDcross
Author and test pilot: Tom Grabner
Already during the development of the DIAMONDcross, the topic "entanglement of the rescue system with the main glider" was crucial for diverse product details, which have been certified with additional tests far above certification criteria during the summer.
The most dangerous situations for a rescue system becoming entangled with the main glider are SAT-like rotations after tangling up. This was simulated by holding collapses.
In contrast to the urgent recommendation of DHV, to powerfully throw the parachute towards your legs to prevent the rescue becoming entangled with the main glider in such situations, the parachute has been deployed after the release out of the harness when tested, to simulate the "worst case".
The aim of the test was to prove that the DIAMONDcross reliably opens also in this situation. Particularly in such an exceptional state like rescue deployment in a stressful situation it might be possible that the pilot is not able to react correctly.
The overall concept of the DIAMONDcross has integrated and considered these aspects of practice at the best.
This makes the DIAMONDcross the rescue system with the highest opening safety!
DIAMONDcross rescue system test-Videos
THE ALL NEW INVENTION 2017 - UPDATED 2019 Now with proven reliability in the acro community with stand up landing every time.
This light stable steerable square reserve from Charly. With several safety improvements to the standard square. Cheaper, more relyable than regallo and easier to pack. 
Use the Steerable square reserve in combination with quickout carabiners for the perfect setup. 
DURING SIV training Instead of landing in the water go land on shore keeping all your equiptment dry. Safer reserve for high altitude acro training over land.  
Paragliding Pack bag lite and small
AIR DESIGN 50/50 Air pack. 
Air Designs 50/50 Air pack reviewed! 
Buy 2 for the of one, lightest and smallest design in 2021. Well done Air Design team! I love it. 
We had a 19' U-turn freestyle fit in Air designs size XS 50/50 Air pack without effort and then something new, it literally just slipped into my comfort ozone oxygen hike and fly harness. WOW factor! 
* The lightest on the market with less material and beats Gins Concertina Pompress at 200gm in weight coming in 2nd.
* Size packs much smaller! Hike and fly reversible no more stuffing and struggling to get it in necessary. Also it easily leaves room for helmet, jacket and small water bottle. Again beats Supair and Gin handsdown!
* Price $65 Comparing the price of Gin a $250 AUD Concertina pack. With supairs close behind at $125 AUD
1/2 the price of other brands with less material smaller and lighter. 3 Ticks making Air designs the No. 1 for me. 
Some say "the zipper gets caught" stay away from zipper - this is total rubbish because if you zip it correctly it isn't an issue. TIP for zip: Never close a zip where pressure is pulling it's sides apart. Close it off part by part and place finger underneath when zipping. You'll never split or brake a zip or catch material doing it the correct way. 
Comes in 4 sizes XS S M 
Available here at Cloudbase paragliding.
Tel. 0407 918 099
Below is a list of stocked demos or used items. 
Discounts maybe available with certain products listed. Please forgive me this list does need updating.