Paragliding equiptment.
1. KORTEL HARNESSES
2. RESERVES
3. HELMET HEADSETS
4. SPECIALS Stocked Demo / Used.
All prices are shown in Australian dollars. With varying delivery times. Prices are subject to actual exchange rate.
All inquiries please contact us Via E-mail here
Kanibal Race ll - April 2018 - RRP 2185€ / AUD $3488
March 2018 Check out the new
KANIBAL RACE II
The famous Kanibal Race is back in a new version!
Seat in a full race harness, with its unique back support and special features specially developped for demanding competition and cross country pilots.
The double rescue container fullfils the new FAI competition regulation.
The new aerodynamic rear fearing has been developped for an optimized tolerance to airflow variation and a better yawl stability.

Kortel Exclucive - Lite weight XC hike and fly harness. 1.9kg April 2018 RRP 1299€ / AUD $2074
Kortel Kolibri Hike and fly
Kortel - Harnesses are known as the most prestigious harnesses ever manufactured. Holding a class of there own.
Weight (full) : M 1.9kg / L 2.0kg / XL 2.1kg

3 sizes : M up to 170cm / L from 170cm to 185cm / XL 185cm and above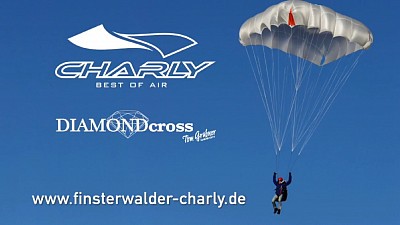 Steerable square reserve "DiamondCrossST" From $1100.00 Sizes available 100 or 125kg
THE ALL NEW INVENTION 2017 - UPDATED 2019 Now with proven reliability in the acro community with stand up landing every time.
This light stable steerable square reserve from Charly. With several safety improvements to the standard square. Cheeper, more relyable than regallo and easier to pack.
Use the Steerable square reserve in combination with quickout carabiners for the perfect setup.
DURING SIV training Instead of landing in the water go land on shore keeping all your equiptment dry. Safer reserve for high altitude acro training over land.
Check it out down the page here.
CUTAWAY - Complete set $195 incl. national delivery.
QUICKOUT 6 piece Carabiner Kit $195 with speedbar release system for brummle hooks. Fits most standard harnesses. Don't be caught out other resellers giving a price for one piece. This is a complete kit.
This price includes 2 quickout carabiners 2 insertions and speedbar release system see photo.

With Diamond cross ST steerable reserve the perfect setup.
DOWNLOAD - CHARLY catalogue here.
PARAGLIDER HELMET HEADSETS
ICOM 41W RADIOS
Exclusive paragliding helmet headsets come direct from German manufacture made to order. Postage is included Australia wide. It takes approximately 3 weeks for delivery.
CABLE - radio to helmet.
All headsets are complete come with radio to helmet cable. Either Baofeng or Icom.
It is possible buy these cables separately inter changeable for use with other radios.
Below is a list of stocked demos or used items.
Discounts maybe available with certain products listed.