MINI ALTI - VARIO 
Fairhaven mirco Altivario plus
They call it micro alti - vario, close to the size of a watch, comes with a wrist band and can be attached to your riser. 
SIZE 37mm x 37mm
VISUAL no need for reading glasses Yay. The screen is very clearly readable even in sunlight. 
ACRO great for Acro over ground it's so small doesn't get in the way, the volume of vario can be turned off or on by a simple side switch. 
SOARING: It eliminates the need for vario holders when switching glider sizes you'll always have your vario with you.

BATTERY LIFE: Lasts roughly 5 days of usual paragliding use. But! don't forget to turn it off or it will be dead on arrival for your next flight 😳 However if your vario sound is on it's bound to remind you 🤣.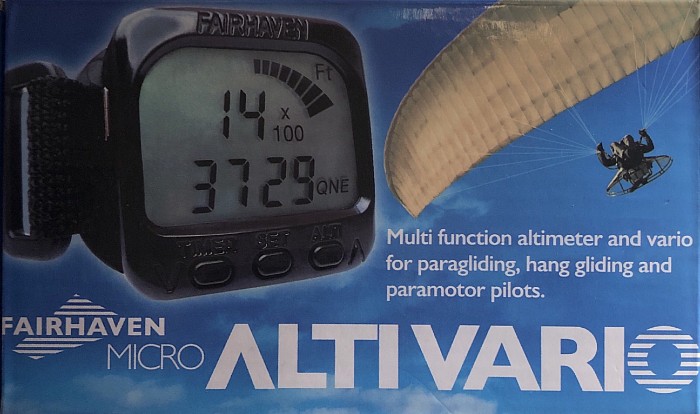 PRICE Fairhaven AltiVario plus
Retail price 119£
Australian Prices will vary due to exchange rates. Here at ParaOz we also have bulk buy prices on offer. Please contact me here if your interested in bulk buy.
PayPal price includes postage Australia wide Price will be in pounds so the exchange rate will be taken care of automatically. 
Free shipping Australia wide £119
Shipping World wide £123.95
DEMO MODEL Micro Alti price reduced. 
We have a DEMO model in full working order comes with original packing. Could have some signs of use. Returns are possible in exchange for new. $190.00 incl. postage Australia wide. Standard price $216.00