Which paragliding wing?
Quick guide to choosing the right paragliding wing.
This information is not a thumbs down rule but can be used as a guide: 
Catagories from Beginner starting with a high passive safety to highly demanding from pilot input with increased performance. 
1. Category = discipline and experience
2. Weight range 
3. Aspect ratio
All 3 must be part of your search criteria. Why? The wrong combination will either cause instability often in combination of collapses or will see you on the ground when others are still in the air. 
EN Certification here's what to look for.
EnA - Student Beginner highest passive safety.
EnB Low - Beginner high passive safety.
EnB High - Flying well with confidence. 
EnC Low - Demanding. Hours and experience needed.
EnC High - Higher constant demand from pilot.
EnD - only recommended for top competition pilots.
CCC - Competition glider - no safety certification allocated.
From PG2 look at changing from EnA to a low EnB if your feeling comfortable on your EnA also importantly you should be good with pitch control and wing stabilisation and be able to start and land every time safely. 
When taking on a higher EnB for some confident pilots most of the time this will not be a problem. But be careful in what you choose there are a couple of hot high end B's out there which tend more towards a EnC demands of a pilot.
NEXT LEVEL - Once going onto EnC you should of had a few years under your belt.
EnC for pilots round the 300hr mark enjoys long XC or top of the EnB class competition pilots, and if flying 100hrs per year if you feel the need for more performance. 
EnC is a larger step in reducing safety. Look at low aspect ratio (see below for explaination of AR) before charging onto a higher end EnC unless your a coastal pilot or fly in soft thermal conditions. A very competent pilot could go higher in aspect ratio by taking light wind days and slowly getting to understand the feedback (talkative aspect) of the EnC but beware all EnC's demand your constant input when flying inland. Some pilots find them too tiring.
Lightweight pilots: fully loaded under 70kg the EnC becomes more difficult to fly and to keep open it is considered closer to flying a higher class eg. EnD.
EnD don't be in such a hurry get one, have a couple of SIV's and a few hundred more hours under your belt. 
Quote: Russ Ogden from Ozone "I do not recommend flying any EnD under a complete pilot weight of 90kg."
Pod harness increases risk of twist. It's used to increase warmth and comfort on long XC also it gives the pilot greater aerodynamics. It's recommended for long standing EnB or EnC XC pilots. Never change harness and Glider at the same time. 
WHICH SIZE paraglider?
WEIGHT IS IMPORTANT
Each glider has specs with in those specs the most relivent is classification, weight and AR. 
WEIGHT - IS ALWAYS YOUR COMPLETE PILOT WEIGHT.
Your weight + cloths, glider, harness all equiptment. 
The specs read from 50 kg to maximum 210 kg. 
If not otherwise stated it will be pilot weight not your naked weight. 
Reccomended for coastal soaring is a mid weight range. Inland top of the gliders weight range. When choosing a glider you also have the opertunity to carry water ballest of 5 to 8kg. 
When flying in the lower region of a gliders weight range this will make the glider less dynamic, climb rate will be best you will over fly those highly ballested on the same glider, but speed will be slower. Collapses are more likely in turbulent air masses eg. inland.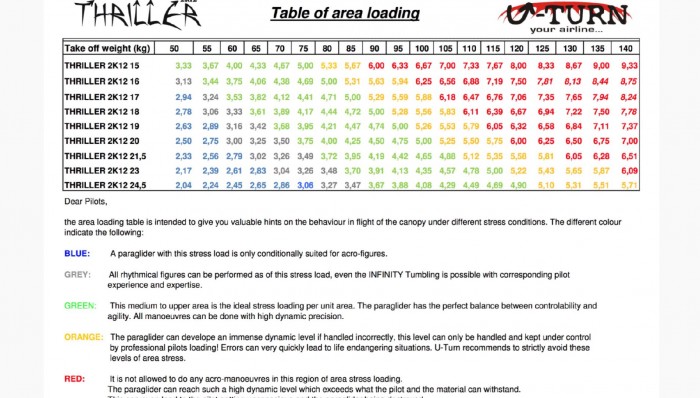 Graphic U-Turn: Use this as a guide for uncertified, Acro / Freestyle / Mini-wings. Although not all completely up to date.
Wing loading in kg for freestyle / Acro gliders. 
FREESTYLE < 4.3
Acro 4.3 - 5.4
Competition > 5.4
The modern day gliders with newer trim and tech are allowing more pilots to do more tricks at a lesser weight loading. 
Formular to work out wind loading. 
Complete pilot weight divided by flat suface area of wing. eg. Pilot weight 60kg with wing surface area 21 gives a total of 2.85kg wing loading.
Standard Paragliders
Light weight pilot: 60 / 21 = 2.85kg 
Medium weight pilot 90 / 26 = 3.46kg
Heavy weight pilot 110 / 29 = 3.79kg
SAFETY with INCREASING PERFORMANCE LEVEL
ASPECT RATIO - Length tip to tip and width. Which is listed in the specs as AR Flat or AR projected (inflated)
To keep it simple we only look at the Flat AR.
The higher the aspect ratio generally the more demanding for the pilot. The brakes become heavier as AR increases, Performance however is increased.
Flat AR 3.95 is a low AR would suit a EnB
Flat AR 6.85 is high AR would suit a high end EnC
If you look at low AR your assured easier passive handling.
Looking at high AR within your class increases speed, glide and climb rate. Higher, with number of cells - less Chord (width)